Super Deluxe Turtle Snorkeling Package
Enjoy five different activities in this exculsive package! Go snorkeling, sea-kayaking, stand up paddle boarding, water sliding, or bounce on our trampoline.

Snorkel around and explore the marine life below you or hop on our kayaks/paddle boards & cruise around. Also jump off our slide/boat/trampoline & splash in the ocean.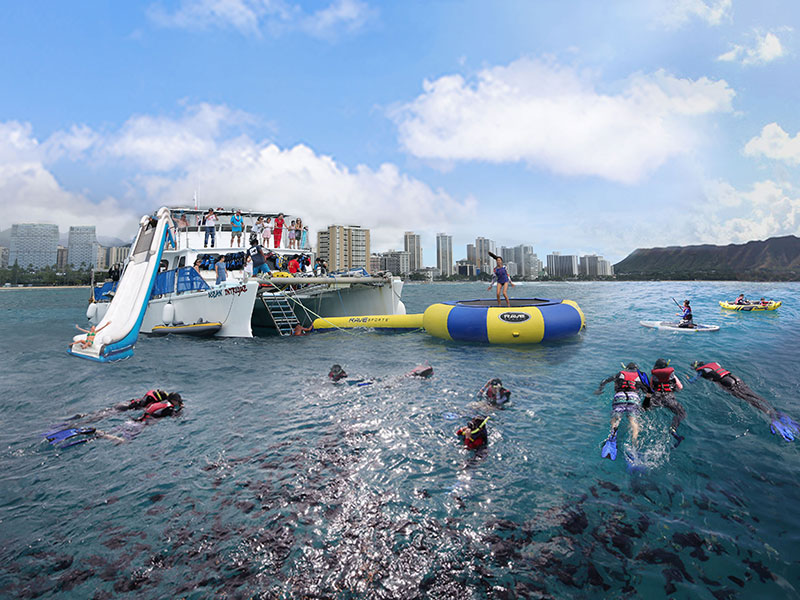 Above is our 60' Ocean Intrigue, a catamaran retrofitted into a unique diving & water adventure sports vessel. This vessels capacity is ≤ 137 guests & is operated safely w/a crew of three or more. All are welcome, water/swimming experience is unneeded for all activities.
#Super Deluxe Snorkeling Package Times: 0900/1300

1. Transportation
We pick up activity participants from Waikiki hotels/locales. Free transportation when booking directly. You must always furnish activity vouchers to shuttle drivers.

2. Enjoy a variety of different activities from Kewalo Basin
Kewalo basin is ~15 minutes from Waikiki. We offer parasailing, diving, snorkeling, deluxe snorkeling, whale watching, & scuba scooters.
3.Turtle Snorkeling Participant Waiver at the check-in location
Once you arrive, check-in w/our staff & if you agree to our participant wavier receive your activity wristband.

4.Checking your snorkeling equipment
Once onboard, listen to our safety briefing, then get outfitted w/properly sized gear for any sizes. A staff member can assist you w/wetsuits, snorkels, masks, & fins. Due to recent mishaps, we urge only using waterproof gear rated for ≥ 40ft (~12m).

5. Help feed fish
Once at our location you may help the crew feed schools of fish and watch them gather! Take photos or rent our Waterproof Action Cameras/Waterproof Go Pros!

6. Start your adventure
Hop in the water & enjoy yourself, or lounge on deck and relax!
7. Return to shore
Once all activites have been completed we'll return to Kewalo Basin & you get transportation to your pickup location.

We have flexible timeslots available(morning/afternoon), let us know what activites you are interested in or have questions about.
Contact our staff if you have any questions, mahalo!